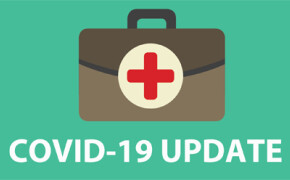 Note from Pastor Dave regarding Calvary and COVID-19
Dear Calvary Family,
Wow… what a crazy time we are living in. Things are changing moment by moment. If we weren't sure that we are completely dependent on the Lord before, we should be now. God's word, not surprisingly, gives us direction and comfort. I'm drawn to "trust in the Lord with all your heart, and lean not on your own understanding. In all your ways acknowledge him and he will make your paths straight" (Proverbs 3:5-6).

What does "trusting in the Lord" look like at a time like this? This could be answered many different ways, but one I would like to stress right now is being cooperative and obedient to our governing authorities (Rom 13:1-7). They have told us to suspend all gatherings, including small groups until further notice and so that is what we are doing. This does not mean that we stop having interaction with one another. In fact, it might mean we need to have more, but for a while, via phone, text, email, or Facetime.
During this time church leadership is still available by phone or by should any questions, concerns, or needs arise. We especially want to make ourselves available to help anyone who finds themselves isolated due to the virus.
Also, we have checked with the County of Orange and they have told us that we are still ok to proceed with our plans to live stream our service, deeming it an "essential service" to the community.
During this difficult season, we have an opportunity to "be the church" like never before. The location or building has no bearing on the church thriving. It is the people caring for people and "considering how to stir up one another to love and good deeds" (Heb 10:24). Not meeting together is only for a short time, and is out of a safety emergency. When the medical experts get ahold of this, we will get to resume our gatherings with excitement and a renewed appreciation. In the meantime, seek God's word and look to care for God's people in proactive and loving ways.

Thanks for understanding this during this challenging time.

In Him
Pastor Dave Tebay