April 16 Prayer Blog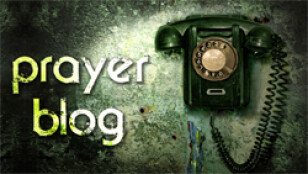 Palm Sunday
Cheers and Praise With No Understanding

Praise God for His word to us, the Bible, because it is cohesive. It is not an anthology of miscellaneous ancient writings. The golden thread of God's redemptive plan begins in the early chapters of Genesis and is woven through the whole Old Testament and New Testament.

Who is this "someone" in God's plan who died to atone for our sins and give us peace with God? The answer, of course, is Jesus. Pastor Dave noted that some church-goers know the answer experientially; they understand because it happened for them. Others parrot the right answer but don't really understand it. Do I praise Jesus, the humble king, because I truly understand who he is? Or do I, like the crowd on Palm Sunday, praise Jesus because he might solve my pressing problems? Is Jesus rejoicing over me … or weeping over me? Ask him.

When the Holy Spirit bears witness with your spirit that you are a child of God (Romans 8:16), the "you" in Luke 22:19-20 becomes personal. My body given for you … My blood poured out for you. As Pastor Shannon suggested in his communion meditation, spend time pondering the greatness of God's love for you and thanking Him.

Calvary Family

I talked to a friend on Sunday who is bringing her adult daughter to church on Easter Sunday. She said her daughter comes to church with her twice a year – Christmas and Easter. There may be many in church next Sunday like my friend's daughter. Ask the Lord to use our Easter service to reach the hearts of these visitors, to shake up their worlds.

Think about the choruses of Alleluia! He is risen! that will roll across the globe on Easter, in all kinds of languages and all kinds of settings. Lift up not only Calvary's Easter services but also the Easter celebrations of churches around the world, including churches in Poland, Austria, Kenya, and Mexico.

Jesus said, "Do not worry about tomorrow. Each day has enough trouble of its own." (Matthew 6:34) Lord, are you saying that it will take all my attention and efforts to face today's troubles in a way that honors and pleases you? Keep my eyes on you today and keep my ears open to your voice.
In Christ,
Carol Gilbert
Calvary Community Church of Brea
P.S. Because of Easter, there will be no prayer blog next week. Check your inbox on April 30!