February 13 Prayer Blog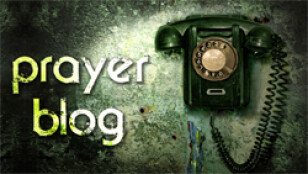 So you are no longer a slave, but a son …
(Galatians 4:7)

Jesus to his disciples: I tell you the truth, if you have faith as small as a mustard seed, you can say to this mountain, "Move from here to there" and it will move. Nothing will be impossible for you.
(Matthew 17:20)
As believers in Jesus Christ, we are no longer slaves. Then why do we sometimes act like slaves? Why do we think that – like a slave – we have no choice in a matter? The pregnant young woman thinks she has no choice but abortion. The student unprepared for an exam thinks he has no choice but to cheat. The addict thinks it is impossible to say NO to the needle or the porn site. The executive acquiesces in unethical business practices because she has no allies in her scruples and feels forced to go along. The super-busy believer skips time in the Word and prayer (again!) because there's no time and there's nothing he can do about it. A person carried along by strong currents of anger or anxiety believes it is impossible for her to control her emotions.
The message "You have no choice" is almost always a lie. It is slave-talk and a lie Satan whispers to exempt us from doing a hard thing the Lord is calling us to do.

I want to challenge us this week to examine before the Lord any situations in which we tell ourselves, "I have no choice." Lord, what choices do I have that I have been denying? Let's affirm in God's presence that what looks impossible to us is not impossible for Him. Let's call on our faithful God to enable us to handle the fallout from an "impossible" choice by His indwelling power.

Here are more prayer topics for this week:

1. Deni Martin suffered what is described as a "small" heart attack last week and required the insertion of four stents in her coronary arteries. She is home from the hospital. Pray for Deni as she recovers from this heart attack and for her family as they care for her. Deni writes, "Praise God! He holds the future & cares for His children."

2. Six-month-old A.J. Gilbert will undergo major open heart surgery this Friday to correct his congenital heart defects. Praise God that the surgery could be delayed till now when he is bigger and stronger. Ask the Great Physician to be in the operating room and the ICU, guiding the decisions and hands of the medical team. Pray for parents Jamie and Keith – for physical strength and for protection from fear.

3. Fifteen of Calvary's high school students are going to Forest Home for Winter Camp Feb. 17-20. The theme for the camp is "Focus." Based on Colossians 3:1-2, students will discuss what it means to set their minds on things above. Pray that each student will have a personal meeting with God next weekend. Pray for strengthened relationships among the students and between students and leaders.

4. Dianne Kersh requests prayer regarding her move to Georgia later this month to help care for her aging parents. Pray that God will soon lead her to the church He has for her in Georgia. Pray for God's guidance and wisdom and for extra patience as she enters this new chapter in her life.

5. Take time to read the latest letter from Tomasz Chylka and then pray for his ministry in Pszczyna, Poland. Next Sunday, Tomasz will be teaching the men of his church on many of the same topics Pastor Dave discussed in our recent "Define: Church" sermon series. Tomasz writes, "We have been very blessed with Pastor Dave's teaching on the Church that we can listen to online. … He's been ministering to us as well." Pray also for a ministry and evangelism course Tomasz will be leading Feb. 24-25. Nineteen students representing eight evangelical churches in Poland will be participating. Some are traveling 350 miles from the Ukrainian border to take part.

6. Lift up marriages this Valentine's Day. Reminders that God's intent for marriage is under attack are everywhere. A Pew Research poll finds that only 46% of Americans think society is better off if marriage and children are a priority. A 57-year-old husband writes to Dear Abby bemoaning the fact that he and his wife have become little more than roommates. "I want to leave," he writes. "Should the promise I made to my wife on our wedding day hold me back?" Pray that your own marriage (if you're married) and the marriages around you will bring honor and glory to God.

7. In my small group's study of the book of Numbers, we have reached the part where Moses hands off leadership of the Israelites to Joshua. We have talked about the uncertainty and anxiety the Israelites must have felt. Maybe we at Calvary share some of those feelings as we trade Paul Bautts for "a player to be named later," in baseball parlance. Pray that, in this time of change and uncertainty, we will trust God to provide for us a shepherd of His choice in His time. Be praying, too, for Paul and Diane as they prepare for their big move. One specific request is that the Lord will provide the right house for them in the Santa Margarita area.
In Christ,
Carol Gilbert
Calvary Community Church of Brea