June 5 Prayer Blog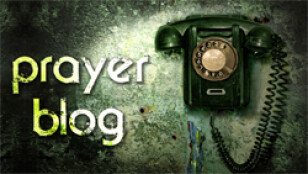 Jesus entered a village, and a woman named Martha welcomed Him into her home. She had a sister named Mary, who also sat at the Lord's feet and was listening to what He said. But Martha was distracted by her many tasks, and she came up and asked, "Lord, don't You care that my sister has left me to serve alone? So tell her to give me a hand." The Lord answered her, "Martha, Martha, you are worried and upset about many things, but one thing is necessary. Mary has made the right choice, and it will not be taken away from her." (Luke 10:38-42)
Today's blog post is the last of the season. A few weeks ago in our ESL Bible study for students from the Chinese congregation, the icebreaker question was, "What do you plan to do this summer?" My answer was, "I plan to do less!" Other people described schedules packed with travel and other activities.

My prayer is that whatever we each do this summer – whether it is a little or a lot – that we do the one thing that is needful. May we all sit at the feet of our Savior, listening to Him in His written word and through the Holy Spirit, responding to Him in prayer.

Here are prayer requests I have received recently:

Ask the Lord to comfort these families who have lost loved ones in the last two weeks. Because the deceased were followers of Jesus Christ, their families will not grieve in the same way as those who have no hope. (1 Thessalonians 4:13) Nevertheless, they will mourn separation from someone they love.
After four months on hospice, Ramon Reyes succumbed to liver cancer. Pray for his widow, Janet, and their daughters and grandchildren.
Mita Phillipps' father, James, passed away after battling bladder cancer for more than a year. Pray for Mita, her mother, and the rest of the family.
Long-time Calvary member Peggy Bruckswent home to be with Jesus on June 1. Lift up her son and daughter-in-law, Jack and Ann, and the rest of the Brucks family.
Also, Shirley Maher requests prayer for her daughter, son-in-law, and grandsons as they participate in a missions trip with their Sacramento church to the slums of Sao Paulo, Brazil, July 13-25.

In Christ,
Carol Gilbert
Calvary Community Church of Brea