March 26 Prayer Blog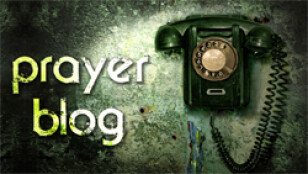 Matthew 21:1-17
Palm Sunday

When I was growing up, Palm Sunday was the day we children walked down the aisles of the sanctuary waving palm branches while the congregation sang the hymn "Hosanna, Loud Hosanna." Pray that all of us will clearly understand the deep significance of Palm Sunday as the climax of the crescendo of Jesus' ministry, his public declaration that he is the King of kings.

Thank God for His plan to send Jesus to earth twice – first, as a king on a donkey, offering peace. It is a gracious plan because the time between Jesus' two comings is a short season of salvation, a period of "open enrollment" for salvation. At his second coming, Jesus will bring an end to evil -- including unregenerate human beings -- but he offers peace with God in the meantime.

Spend time praying for people you know who have not bowed before the King who came to his people mounted on a donkey. Unless their hearts are moved to repentance, they will face that same King but riding a war horse and treading the winepress of the fury of God Almighty's wrath. (Revelation 19:15) Ask the Holy Spirit to pursue them and soften their hearts. Pray for opportunities to speak and for guidance to know in that moment how to speak truth in love.

Calvary Family

Pray for our pastors and our worship team as they prepare for the Good Friday and Easter services. Pray that their preparation time this week will be a rich time of being in the Lord's presence and offering Him personal worship.

As Pastor Dave noted yesterday, Good Friday and Easter are times that nonbelievers come to church – whether drawn by the Holy Spirit, dragged by family, or pulled by tradition. Pray that these visitors will have a life-changing encounter with the Lord.

I had an opportunity to talk to Cathy Wickersham last week and asked for an update on her husband, Bob. His cancer, which started in the prostate and is now in the bones, is under control. However, he continues to experience persistent and serious anemia, possibly as a side effect of medication. Cathy smiled as she reported that they both have a "great attitude" and are sure that God has a purpose for this trial. They are able to share their trust in God with others and have seen positive change in people around them. Please continue to pray for the Wickershams.

Begin to pray for the team from Calvary that will travel to Pszczyna, Poland, to help celebrate the 20th anniversary of Tomasz and Kamilla Chylka's church on April 20-22. Representing Calvary will be Dave and Carrie Tebay, Anthony and VV Terrones, and my husband, John, and I. Ask the Lord to prepare our hearts to understand His purposes for the trip and to do our part in accomplishing them.

In Christ,
Carol Gilbert
Calvary Community Church of Brea

P.S. There will be no prayer blog next week, April 2, in observance of Easter.