May 10 2022 Prayer Blog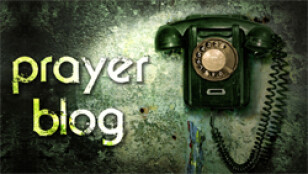 2 Peter 1:8-15

For if these qualities are yours and are increasing, they keep you from being ineffective or unfruitful … Many people today feel lost, ineffective, unfulfilled. If those words describe your life, Peter would counsel you to cultivate these godly qualities: virtue, knowledge, self-control, steadfastness, godliness, brotherly affection, and love. (verses 5-7) If you are wondering how that works, if you can't draw a straight line from developing self-control (for example) to a meaningful life, that's OK. Trust God to forge the connection. Begin with prayer, describing how you see your life, with complete honesty. Tell Him you need and want "these qualities" to supplement your faith. Ask Him to train you; pledge your cooperation and pray for diligence.

For whoever lacks these qualities is so nearsighted that he is blind … If you lack "these qualities" and, as a result, you feel ineffective and unfruitful, perhaps you should thank God! You realize that your Christian life is not all that the Lord intends, and you want more. The person who lacks godly qualities but is blind to it has a bigger problem. He (or she) has forgotten where he came from and what Jesus has done for him. There are surely some in our congregation who fit this description; we don't need to know who they are to lift them up in prayer. Pray that someone in close relationship with a "nearsighted" Christian will be empowered to remind and exhort, saying something like, "That's who you were, not who you are. Be who you are in Christ!"

Take a moment to use the benediction Dave quoted from Jude to praise God today. Try reading it slowly, out loud.
Now to him who is able to keep you from stumbling and to present you blameless before the presence of his glory with great joy, to the only God, our Savior, through Jesus Christ our Lord, be glory, majesty, dominion, and authority, before all time and now and forever. Amen. (Jude 24-25)

Calvary Family

As part of communion on Sunday, Pastor Dave took time to clearly summarize the gospel -- the bad news and the Good News. In his sermon, commenting on Peter's emphasis of "the knowledge of our Lord Jesus Christ," Dave said we should be experts on the gospel. If you would like to review the "two roads" presentation of the gospel in more detail, click here to view Dave's workshop, "Everyday Evangelism." Be praying for someone you know who needs to hear the gospel.

Please pray for Kathy Oltmanns, who was recently diagnosed with a cancerous tumor in her colon. The doctors' plan is to do radiation therapy first, with surgery as a possibility later. Kathy's husband, Cary, has a bad back and cannot drive, which will complicate caring for Kathy. As we ask the Lord to heal Kathy, let's also ask Him to comfort Kathy and Cary with tangible evidence of His loving presence with them.

Plan to attend the baptism service on Sunday between services and be praying for the individuals who will be taking this important step. Ask the Lord to bless them as they publicly pledge allegiance to Jesus Christ, in obedience to him. Pray for protection from the spiritual attacks that will almost certainly come; Satan hates and opposes baptism.

Lift up the Men's Breakfast planned for Saturday. Pray for good and godly fellowship as the men of Calvary gather together. Pray that generations will mingle, learning from and encouraging one another.
In Christ,
Carol Gilbert