May 25 2021 Prayer Blog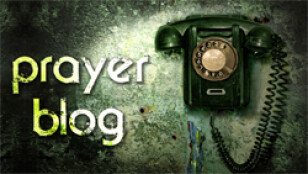 Exodus 28:1-43
Holy Garments

Pastor Todd described God's detailed instructions for making garments for Aaron, the high priest, and Aaron's sons, the under-priests. These holy garments pointed forward to Jesus, the ultimate high priest, and to his followers.

Praise Jesus because …
… he is high priest forever, not just a span of threescore years and ten.
… he is holy, set apart, pure.
… he is full of glory and beauty even without priestly garments.
… he carried the weight of our sin on his shoulders at the cross.
… he knows our names and bears them on his heart.
… he teaches us the will of God.
… he intercedes for us, consecrating our offerings of treasure, service, and prayer so they are acceptable to the LORD.

Pray for yourself, and for all of us, as under-priests …
… to be set apart for God. How have I allowed myself to be pressed into the world's mold?
… to carry out our calling to declare His excellencies. What might that look like today?
… to use the gifts God has given us, under the superintendence of the Holy Spirit, to serve Christ and his body, the church. Do I know what my gifts are?
… to bear one another's burdens and serve one another with love, remembering one another before the Lord. Bring to my mind the name of someone You want me to pray for today.

Calvary Family

This edition of the prayer blog is the last till Fall. But much will be going on at Calvary over the summer, so don't stop praying!

Pray for those among us who have never publicly declared their faith in Jesus through baptism. Perhaps the Holy Spirit is urging them to take that step by participating in the baptism class on June 6 in preparation for the baptism service on June 27.

Several of our high school students are participating in a Summer Servants program led by Austin Tebay, starting June 13. These students have committed to participate in weekly Bible studies and to play a significant role in planning and executing VBS, youth events, and Family Camp. Pray that, this summer, the students will learn how to serve the local church and begin to see how the Lord can use their gifts for His kingdom.

Ask the Lord to be with us for our annual business meeting on June 20. Deacons and elders will be introduced and the 2021-22 budget will be discussed, with voting by members to follow. If you are not a member of Calvary, ask the Lord if He desires you to make that commitment in the coming year.

Lift up in prayer this year's Vacation Bible School, known as Calvary Kids Creativity Camp. Ask the Lord to bless the efforts of the team making preparations and recruiting volunteers right now. During the week of camp, June 28 – July 2, please be faithful in praying that every volunteer will be a worthy ambassador of Christ among the kids who participate. Ask the Lord to open young ears to the gospel and draw young hearts to Himself.

The word of God is our nourishment, year-round. Ask the Lord to help you engage with the Scripture this summer, whether in an organized study offered at church, with a group of friends, or on your own.

Family Camp is really about "body life." It is especially effective at helping people newer to Calvary, who don't yet feel connected, to truly become part of the Calvary family. Pray for good and godly fellowship among everyone participating in Family Camp July 24-30.
In Christ,
Carol Gilbert
Calvary Community Church of Brea