May 28th Prayer Blog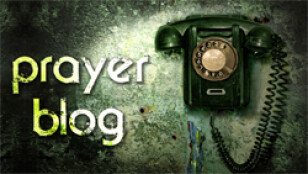 Genesis 44:1-34
The Silver Cup Caper

Here, Joseph's brother Judah shows us a picture of true repentance. Pastor Todd reviewed Judah's sordid resume from Chapters 37-38, emphasizing that Judah's modus operandi was disregarding God's commands and looking out for himself. In this passage, a repentant Judah offers to take Benjamin's punishment for the "stolen" cup to spare his father misery. Lift up someone you know whose resume looks like Judah's old one, acknowledging that God works in ways we can't fathom, with a long-suffering patience we can't match.

Pastor Todd reminded us that repentance is more than a one-time act at the moment of salvation. It is also a daily turning to God, the constant practice of walking in His light. Lord, help me walk in the light today. Help me consciously turn to You to ask for guidance and then for cleansing in the instances I fail to follow it.

Our pastors have stressed that a major lesson from the life of Joseph is that God has a purpose in trials, even in trials that seem grossly unfair to us. Ask the Lord to inscribe this lesson on your heart in indelible ink so that you will remember it the next time trouble comes. Lord, who am I to judge fairness? May Your purpose be accomplished through this trial, whether I understand it or not.

God worked in the brothers' lives, leading them to face the sin they thought they had safely buried, but He also worked in Joseph's life. In the next chapter, we'll see Joseph forgive his brothers from the heart and Jacob's 12 sons reconciled. Lift up any of your relationships that are marked by unfinished business. Pray for the ability to forgive, if that is needed. Pray for the ability to confess wrongdoing and seek forgiveness, if that is needed. Ask the Lord to grow you to be a person of mercy and grace toward others, even those who have wronged you.

Calvary Family

This is the last blog post till September, so I'd like to take this opportunity to enlist you to pray faithfully for two major happenings this summer:

Vacation Bible School, June 24-28

VBS requires a great deal of human effort, but pray that it will not be human effort alone. Pray that a desire to honor the Lord will motivate everything that is done by every leader, teacher, and helper. Pray that the ears of every VBS servant will be open and alert to the voice of the Holy Spirit.

Ask the Lord to prepare the hearts of children to hear and understand His word. Pray that the seed of the gospel will penetrate receptive hearts, grow, and yield fruit.

During VBS week, pray for health and stamina for all the VBS workers. It is an exhausting week, especially for those in leadership roles.

Family Camp, July 27 – August 2

Pray that the body of Christ at Calvary will be built up and knit together during this special time in a beautiful corner of God's creation.

Pray that our Polish visitors will feel welcomed and cared for. Pray that strangers will quickly become brothers and sisters, and that all the campers will be encouraged by that transformation.
In Christ,
Carol Gilbert
Calvary Community Church of Brea