November 20th Prayer Blog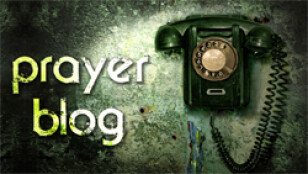 Genesis 30:25-43
Undeserved Blessing

In this passage, two master tricksters – Jacob and Laban – make a business deal involving flocks of sheep and goats. Then each man slyly tries to gain advantage over the other. Before the deal can be implemented, Laban removes the spotted and speckled animals, the ones Jacob is to receive, from the flock and sends them away. Jacob employs superstitious "magic" involving tree branches to induce the animals to produce spotted and speckled offspring. Nevertheless, God blesses Jacob with great wealth in the end. Pastor Shannon applied this passage to us by asking and answering three questions:

Q: Why does God bless messed-up people?
A: Grace
The question really is, Why does God bless anyone? Before the Lord, admit that every blessing you have received is undeserved, a product of God's grace only. We know that our eternal souls are saved by grace, but we often think in terms of merit or exchange when we ask for other blessings in our everyday lives. Let's ask the Lord to confront us when we start thinking that He is obligated to do what we ask because we've done our part, cleaned up our act, "claimed" what we perceive as a promise, or asked fervently.

Q: Is this passage teaching the prosperity gospel?
A: No
We (properly) reject the prosperity gospel, which is the idea that God wants us to be healthy and wealthy in this life. Why, then, do we get freaked out when bad things, hard things, happen to us? Ask the Lord to remind us daily that He never promised us easy lives. Ask Him to grow us to be people who understand that the eternal blessing of being co-heirs with Christ far exceeds the material, temporal blessings of this life.

Q: Does God's blessing to us rub off on others?
A: By grace, God makes Himself known through His imperfect children
Pastor Shannon noted that we all have opportunities in this Thanksgiving and Christmas season to let God's grace and blessing shine through us, His undeserving children, to others who do not know Him. The image that came to my mind is the Peanuts character Pigpen. A cloud of dust follows Pigpen wherever he goes; a cloud of grace follows us wherever we go. Tell the Lord you are willing to be a witness to His grace and ask Him to show you how and to whom.

Calvary Family

Lift up the six people baptized on Sunday: Bella Schultz, Nick Van Norman, Katey Lopez, Jelena Prophet, Michael Prophet, and Jack Miles. Pray they will feel the Lord's pleasure in their step of obedience and experience His protection from the resentful attacks of the enemy.

Our Hacienda Victoria Giving Tree project, which supplies Christmas gifts to orphans in Mexico, is underway. It is a good reminder to pray for these children. Pray that they will be safe and well cared for in the orphanage and that they will come to know the great love their heavenly Father has for them. Pray also for children in foster care in our nation and in Orange County – our orphans.

Pray for Calvary's Missions Council as they grapple with the issue of how we can take the love of God and His gospel to our local community in an effective way. The Council received input from our elders last week and is now in the process of discussing ideas and listening to the Lord.

In the broader culture, the ThanksGiving holiday has become a GladFeeling holiday. When someone says, "I'm thankful for …" they really mean, "I feel glad I have …" They don't truly thank because they don't know whom to thank. Ask God how you might help others lift their eyes from the gift to the Giver this week.

Happy Thanksgiving to you and yours!
In Christ,
Carol Gilbert
Calvary Community Church of Brea