November 5th Prayer Blog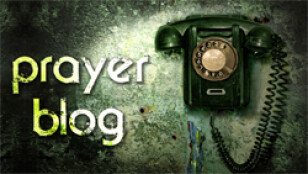 Colossians 4:2-6

Near the end of his letter, Paul instructs Christians to pray in three specific ways.

Pray, being watchful. Watchful, for what? Paul has already spoken of "when Christ, who is your life, appears." (3:4) If we are watchful for Jesus' return, we will pray, "Come, Lord Jesus!" and we will ask Him to prepare us for that day. I think my watchfulness in prayer (or lack thereof) is a gauge of how fixedly my mind is set on things above (3:2).

Pray, being thankful. Thanksgiving is only a few weeks away and, on that one day of the year, even nonbelievers will be giving thanks (to whom, I wonder?) for the tangible, temporal blessings of life, such as family, a job, and a home. As believers, we should also be thanking God for the eternal things He has done for us. Pastor Dave suggested praying through a psalm as one way to focus on "things above" blessings. He used Psalm 103 as an example; you can find a list of psalms that emphasize thanksgiving here. Don't wait until November 28! Try it today.

Pray for open doors and clear words to declare the mystery of Christ. "Pray for us!" was a common request of Paul's as he poured his life into proclaiming the gospel. That mission is not just for evangelists, like Paul, or for pastors. It is ours, too. Pray: Lord, give me an opportunity to speak of You today. Lead me to that person who needs to hear about Your love. You know I feel clumsy and insecure, so fill me with boldness and clear words from You.

Calvary Family

To mark the International Day of Prayer for the Persecuted Church on Sunday, we watched a video clip about believers in North Korea. (If you missed it, you can watch here.) Pray for our brothers and sisters in North Korea who have been gathered into God's kingdom despite severe persecution. Pray also for believers in the Chinese provinces that border North Korea who take great risks to tell North Koreans that God is real.

Steve Russell would appreciate prayer as he goes into court tomorrow. He faces charges from two and a half years ago, before he met the Lord. I talked to Steve on Sunday, and he is ready to accept whatever the Lord has for him. Pray for peace for Steve and for his new life in Christ to shine brightly.

Please take time to read and pray over the latest letter from Pastor Tomasz Chylka. In it, he shares a heartfelt message about depending on the Lord. He writes, "My soul needs Him daily, like air, to live! I can't do this without Him, but when I know He is working, I can work too – not blindly, not alone, but with Him, according to His eternal plan." Tomasz also shares an update on the Pszczyna church's Journey of Faith building fund plus many prayer requests.

Please continue to pray for Tom and Judy Ungeheier (former Calvary members) as Tom undergoes treatment for cancer. Pray for physical strength and restful sleep each night for Tom. His trips to appointments in a wheelchair using medical transport are very tiring. Pray also for encouragement during frustrating times. Lift up Judy as she cares for Tom. Praise God that they are navigating this trial – walking on the water, as they put it – with full trust in God.

Shawn Pina asks that we continue to pray for her mother, Mary, who has uterine cancer. Mary is scheduled for a hysterectomy on November 21. Shawna has tried reaching out to her mother, without success. Ask God, in His power and grace and love, to forge a relationship between mother and daughter.
In Christ,
Carol Gilbert
Calvary Community Church of Brea