October 8 Prayer Blog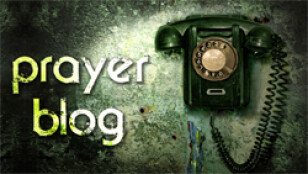 Colossians 2:16-23
Two Commands and a Question

Paul gives two commands – Don't let anyone judge you and don't let anyone disqualify you – to fortify the Colossian Christians against false teachers. Judaizers were adding pharisaic rules and regulations to the gospel, and mystics were enticing with special experiences. Ask the Lord what those voices sound like in our world today. Who in your personal circle or in Christian media is judging you or disqualifying you? Are you listening to them?

As I thought about the passage and Pastor Shannon's sermon, it occurred to me that we sometimes judge and disqualify ourselves. We see or hear a Christian we admire – for example, at church or on Christian radio – and think, "I have to do what he or she is doing!" even if that person makes no such claim. Lord, do I press myself into someone else's mold as an addition to, or a substitute for, the pure gospel? And, if I do, why? Am I filled with a prideful desire to be a Platinum Elite Christian? Do I lack confidence in Christ?

Spend some time meditating on the truth that Christ is enough. When Adam and Eve disobeyed God in the Garden of Eden, they thought they could improve His perfect world. When we add human rules and experiences to the gospel, aren't we saying that Christ's perfect life and sacrificial death are insufficient?

Gospel add-ons are not only useless; they disconnect us from our Head (v19). And if we are cut off from our Head, we cannot grow. Shannon stressed that delving deep into the word of God keeps us connected to Jesus Christ because that is where God has chosen to reveal Himself and His ways. Too often, we are spiritual anorexics, turning away from the nourishment God offers in the Bible. Ask the Lord to prompt you and strengthen you to put down the TV remote, the phone, or any other alluring distraction and dig into His word today.

Calvary Family

Kay Lewis asks for prayer for her son David, age 56, who suffered a heart attack last Thursday. In the grips of the attack, he managed to drive himself to the nearest hospital, where he coded. Doctors placed stents in two of his arteries and have kept him in a medically-induced coma since. David coded again on Sunday. Kay doesn't know what his prognosis is but is asking the Lord to preserve his life. Please pray for David, his wife and three daughters, a little grandson, and also for Kay, who lost her husband to a heart attack when he was 57.

Please lift up Calvary's English Bible Study, a ministry that helps members of our Chinese congregation practice English while studying God's word. They are studying the Fruit of the Spirit this year with an emphasis on abiding in the vine, who is Christ. Pray that the students will experience the work of the Holy Spirit in their lives and that they will have the courage it takes to speak a new language.

The Fall FunFest team needs many more volunteers to serve on the day of the event, October 26. Donating money or candy is necessary and good, but by interacting with visitors that evening, you can be the face of Calvary and the hands of Christ. Ask God if He wants you to serve in that way.

Pray for Steve, Jay, and Mike from our TLC program as they make final preparations to run a half-marathon on Sunday in Long Beach. Pray that the commitment and self-discipline required to achieve this challenging goal will carry over into other areas of their lives.
In Christ,
Carol Gilbert
Calvary Community Church of Brea